Brownman Ali's PROMETHIUM at Duffy's Tavern
About
Fri-Jul-20, 9pm
@ Duffy's Tavern - 1238 Bloor Street West, Toronto, ON M6H 1N3
$15 cover, $10 advance list
email Andrew@Brownman.com for advance list
Facebook Event: https://www.facebook.com/events/2147469742154071/
----
PROMETHIUM is a highly unstable element - atomic number 61 - whose isotopes are all radioactive. This equally volatile all-star quartet explores collisions of 4 genres of music -- jazz, latin, funk & hip-hop, under the direction of award-winning trumpet player Brownman Ali.
----
:: BROWNMAN ALI - electric trumpet (Jay-z, Missy Elliot, Paul Simon)...
Snaggle uploaded this event on June 14, 2018
Start your ticket shopping from Jazz Near You and you'll support us in the process. Learn how.
Browntasauras Records
2013
buy
Browntasauras Records
2009
buy
Browntasauras Records
2007
buy
Browntasauras Records
2004
buy
Browntasauras Records
2003
buy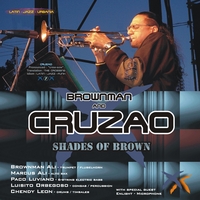 Browntasauras Records
2002
buy